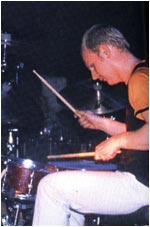 Full Name: Phillip James Selway
Date Of Birth: May 23rd 1967
Instrument(s): Drums
Education: Abingdon Boys School, Liverpool Polytechnic (studied English and history)
Previous Jobs: Drumming in pit bands for touring musicals, Sub-editor, English language teacher
Key Words: Quiet, bald, well-dressed, sensuous
Music:
Past influences - The Beat, Joy Division, The Ruts
Current faves - Teenage Fanclub, Tricky, Supergrass, Captain Beefheart
Favourite Movies/TV/Books: "Shenandoah", "This Morning", "Ask The Family", "Becoming A Mon", "Waterland"
Likes: Being noticed, fish, vodka and tonic
Dislikes: Sitting at the back of the stage, in relative obscurity
Influences: Luck, mostly
Other: Often said to be the band's emotional anchor. So mild-mannered that he is known as 'Mad Dog'. The band claim they wind-up new engineers and producers by telling them to watch out for Phil's temper. Married to Kate.